Looking for a computer services support team who know what they're doing and will get it right the first time?
You've found us.
We have expert technicians on call as well as an innovative team of expert technicians, information systems architects, software developers, network administrators and electronic engineers to meet your needs. We provide high level IT support in many countries including New Zealand and Australia. A lot of our work is level 3 tier support for other IT companies, where we provide specialised technical knowledge. Treshna will add it's combined technological know-how and experience to your business. Our values are key to our service, honest, reliable, innovative, value for money. We won't oversell you a server, when cloud hosting or a NAS drive is all you need for your business. If an existing open source software does everything you need, and is more reliable, we'll recommend it. We pride ourselves on being honest IT providers, aiming for innovative solutions that give you the best reliability at a reasonable price.
Network and Server Installation
We provide cloud hosting for servers and local server setup onsite
Onsite server install times range between an hour for Linux and 6 hours for Windows setup.
Cloud server integration and synchronisation
File Servers, NAS devices, Samba
Network Support and Monitoring
We monitor your network, for free
We fix any network faults, not work around them. We check servers for faults periodically.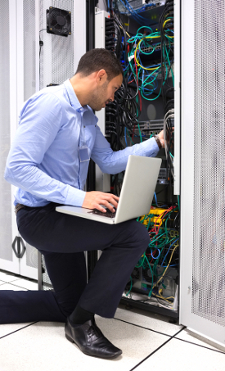 Preventive maintenance is an important factor of a network which is often ignored or low importance. Pro-active maintenance reduces or eliminates the disruption that comes from responding when things go wrong.
Choose your IT support the way you want it
With Treshna you can choose to have an SLA agreement or to pay a reasonable hourly rate for experienced technicians who know what they're doing.
Free alert monitoring servers
Proactive maintenance, to keep servers in top condition
We have our own Internal Escalation Support System; if your usual technician can't quickly solve the problem they will defer to someone who can
Highly experienced staff
We are resellers for Microsoft, Google, HP and RackSpace.